In today's world, environmental protection has become a critical concern for governments, organizations, and individuals alike. With issues like climate change, pollution, and habitat destruction gaining prominence, the demand for environmental lawyers has skyrocketed. These legal experts play a pivotal role in safeguarding our planet and ensuring compliance with environmental regulations.
As we embark on this journey into the realm of environmental lawyers, we will explore their salaries, job responsibilities, and how they contribute to the greater cause of environmental protection. Whether you're aspiring to become an environmental lawyer, seeking one near you, or simply curious about this field, this article will discuss valuable insights and answers to your questions.
How Much Do Environmental Lawyers Make?
The remuneration for environmental lawyers can vary significantly based on experience, location, and the size of the law firm or organization they work for. On average, a junior environmental lawyer might earn around $70,000 to $100,000 annually, while senior attorneys in reputable firms could earn six-figure salaries, ranging from $150,000 to $250,000 per year or more.
Remember that environmental lawyers working for non-profit organizations or government agencies might earn slightly lower salaries than private law firms. However, working on public interest cases and contributing to the greater good can be equally rewarding.
What Do Environmental Lawyers Do?
Environmental lawyers are legal professionals who specialize in environmental and natural resources issues. Their primary goal is to provide legal guidance and representation in environmental protection, conservation, and sustainable development cases.
Some of the key responsibilities of environmental lawyers include:
Advocating for Environmental Protection: Environmental lawyers represent clients in cases against polluters, corporations, or entities that violate environmental regulations. They fight to ensure compliance and seek justice for environmental damages.
Researching and Analyzing Laws: Staying abreast of local, national, and international environmental laws and regulations is crucial for environmental lawyers. They analyze legal complexities to provide sound advice to their clients.
Negotiating and Drafting Agreements: Environmental lawyers negotiate agreements and contracts related to environmental matters, such as land use, conservation easements, and renewable energy projects.
Litigating in Court: Lawyers may take cases to court when environmental disputes escalate. They present evidence, argue cases, and represent clients in trials.
Assessing Environmental Impacts: Environmental lawyers may be involved in evaluating the potential environmental impact of proposed projects and ensuring compliance with environmental assessment processes.
Collaborating with Experts: Environmental cases often require input from various experts, such as scientists, engineers, and ecologists. Lawyers collaborate with these professionals to build strong cases.
Environmental Lawyers Near Me: How to Find One?
If you require the services of an environmental lawyer, it's essential to find one who is well-versed in the relevant laws and regulations specific to your area. To locate an environmental lawyer near you, consider the following steps:
Online Searches: Use search engines to look for environmental lawyers in your city or state. Include location-specific keywords like "environmental lawyers in [Your City]" for more precise results.
Lawyer Directories: Websites like Avvo, Martindale-Hubbell, and FindLaw offer directories that allow you to search for lawyers based on their practice areas and locations.
Referrals: Seek recommendations from friends, family, or colleagues who might have had experiences with environmental lawyers.
Bar Association: If you need the assistance of a qualified environmental attorney, you should get in touch with your state's bar association.
Environmental Organizations: Reach out to environmental non-profit organizations or conservation groups—they might provide legal assistance or recommend lawyers with expertise in environmental law.
Initial Consultation: Once you've shortlisted potential lawyers, schedule an initial consultation to discuss your case and assess if the lawyer fits you.
Natural Resources and Legal Issues: The Core of Environmental Law
Environmental law is a complex field that covers various legal issues related to the environment and natural resources. Here, we explore some of the essential aspects of environmental law:
Natural Resources:
Preserving natural resources is at the heart of environmental law. These resources include air, water, land, minerals, forests, and wildlife. Environmental lawyers ensure responsible management and conservation of these resources for present and future generations.
Legal Issues:
Environmental lawyers deal with various legal issues, including:
Environmental Compliance: Ensuring businesses and industries comply with environmental laws and regulations to minimize environmental impact.
Climate Change and Emissions: Addressing legal challenges related to greenhouse gas emissions, carbon trading, and climate change mitigation.
Water Rights: Resolving disputes over water use, allocation, and pollution.
Endangered Species Protection: Advocating for protecting endangered species and their habitats.
Land Use and Development: Addressing zoning laws, permits, and environmental assessments for construction projects.
Waste Management: Handling hazardous waste disposal, recycling, and waste reduction issues.
Hazardous Wastes and Real Estate: Environmental Law in Practice
Hazardous Wastes:
Dealing with hazardous wastes is a critical aspect of environmental law. Without adequate management and disposal, hazardous wastes pose substantial risks to human health and the environment. Environmental lawyers work to hold responsible parties accountable for hazardous waste contamination and advocate for safe cleanup and restoration efforts.
Real Estate:
Environmental lawyers often collaborate with real estate developers, buyers, and sellers to address environmental concerns related to property transactions. They conduct due diligence to identify potential environmental liabilities associated with a property and negotiate agreements to protect clients' interests.
International Environmental: Navigating Global Challenges
Environmental issues know no boundaries and international environmental law is essential in addressing global challenges. Some critical areas of focus include:
International Agreements:
Environmental lawyers participate in crafting international agreements and treaties aimed at addressing issues like climate change, biodiversity conservation, and transboundary pollution. These agreements promote cooperation among nations to tackle shared environmental problems.
Cross-Border Disputes:
Resolving environmental disputes that transcend national borders requires expertise in international environmental law. Lawyers are pivotal in mediating conflicts between countries and advocating for equitable solutions that benefit the global community.
Native Title and Juris Doctor (JD): A Path to Environmental Law
Native Title:
In countries like Australia, the native title refers to recognizing indigenous peoples' land rights and their traditional connection to the land. Environmental lawyers may work on cases involving native title claims, advocating for preserving indigenous lands and cultures.
Juris Doctor (JD):
Aspiring environmental lawyers often pursue a Juris Doctor (JD) degree, a professional law degree that is a foundational qualification for practicing law in many countries. The J.D. program provides comprehensive legal education and allows students to specialize in environmental law through elective courses and internships.
Environmental Regulation and Job Description: Shaping the Legal Landscape
Environmental Regulation:
Environmental regulation encompasses a wide range of laws, policies, and administrative measures to protect the environment and promote sustainable practices. Lawyers engaged in environmental regulation assist businesses and organizations in complying with these laws and help craft effective environmental policies.
Job Description:
The job description of an environmental lawyer is diverse and multifaceted. It involves legal research, drafting documents, negotiating agreements, representing clients in court, and collaborating with experts from various fields to build strong cases. Environmental lawyers must possess a deep understanding of environmental issues and a commitment to advocating for environmental protection.
Law Schools and Government Agencies: Shaping the Future of Environmental Law
Law Schools:
Aspiring environmental lawyers typically pursue their legal education at esteemed law schools with strong environmental law programs. Institutions like Yale Law School, Stanford Law School, and Vermont Law School are renowned for their focus on environmental law and sustainability.
Government Agency:
Environmental lawyers often find employment opportunities within government agencies, such as the Environmental Protection Agency (E.P.A.). Working in a government agency gives lawyers a chance to shape environmental policies, enforce regulations, and significantly impact environmental protection at a national level.
Renewable Energy and Environment Laws: Paving the Way for Sustainability
Renewable Energy:
Renewable energy is vital in combatting climate change and reducing our dependence on fossil fuels. Environmental lawyers facilitate renewable energy projects, navigate regulatory frameworks, and resolve legal disputes related to clean energy development.
Environment Laws:
Environmental laws are the bedrock of environmental protection. These laws span from local zoning ordinances to international treaties. Environmental lawyers work tirelessly to ensure the proper enforcement and compliance with these laws to safeguard our planet's well-being.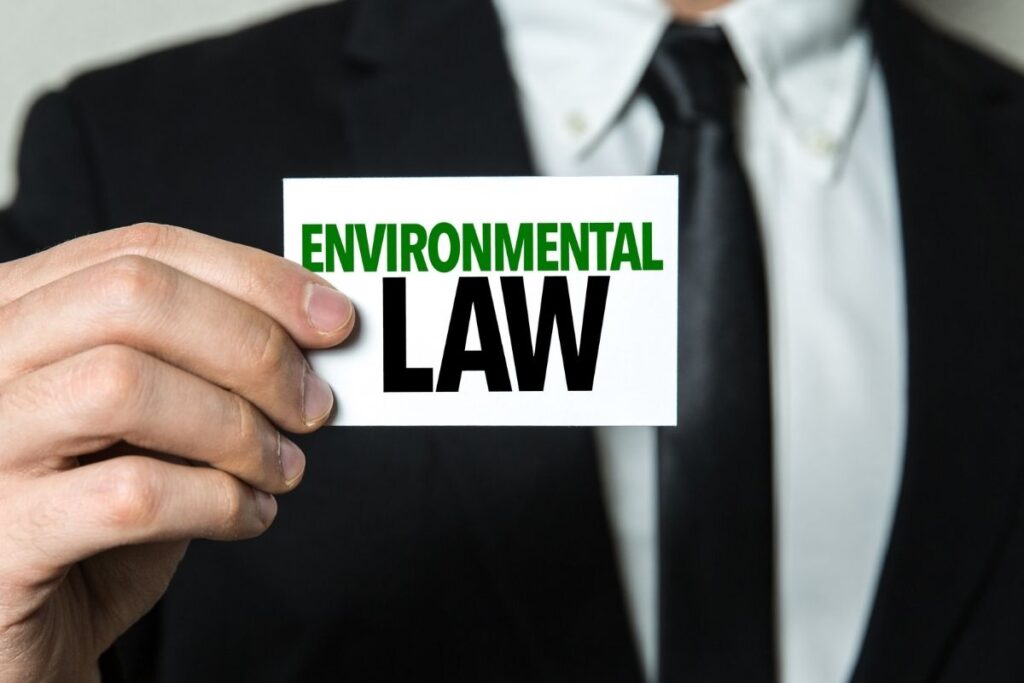 Environmental Attorney and House Counsel: Legal Experts in Focus
Environmental Attorney:
An environmental attorney is a legal professional who exclusively focuses on environmental law. These specialized lawyers work on various cases and projects related to environmental protection, conservation, and sustainability.
House Counsel:
House counsel refers to lawyers employed directly by corporations, organizations, or government agencies to handle their legal matters internally. Environmental lawyers working as house counsel are vital in providing legal guidance on environmental issues and ensuring their employers adhere to environmental regulations.
Public Interest and Law Firms: Pursuing Justice for a Better World
Public Interest:
Many environmental lawyers dedicate their careers to public interest law. They represent individuals, communities, and non-profit organizations in cases that serve the public good and protect the environment.
Law Firms:
Law firms specializing in environmental law are essential players in the fight for environmental protection. These firms handle land use disputes to large-scale environmental litigation against major polluters.
Represent Clients: Advocacy for Environmental Protection
Represent Clients:
Representing clients is the core function of environmental lawyers. They act as advocates, advisors, and litigators, safeguarding the interests of individuals, communities, and organizations in pursuing environmental justice.
F.A.Q.s (Frequently Asked Questions)
Q: How long does it take to become an environmental lawyer?
A: Becoming an environmental lawyer typically involves completing a bachelor's degree (4 years), attending law school (3 years for J.D.), and gaining experience through internships or clerkships (1-2 years). It may take around 8 to 9 years to become a licensed environmental lawyer.
Q: Can environmental lawyers work internationally?
A: Environmental lawyers can work on international environmental issues and collaborate with global organizations and governments to address cross-border environmental challenges.
Q: Do environmental lawyers only focus on lawsuits?
A: No, while environmental lawyers do handle lawsuits, their roles extend beyond litigation. They also provide legal advice, negotiate agreements, conduct research, and collaborate with experts to address various environmental matters.
Q: What is the importance of pro bono work for environmental lawyers?
A: Pro bono work allows environmental lawyers to contribute their legal expertise to public interest cases, ensuring that individuals and communities with limited resources can access legal representation for environmental issues.
Q: What are some landmark cases in environmental law?
A: Chevron U.S.A. Inc. v. Natural Resources Defense Council, Inc. (1984) established the Chevron deference theory and Massachusetts v. E.P.A. (2007) determined that greenhouse gases are subject to regulation under the Clean Air Act.
Q: Can environmental lawyers help businesses become more sustainable?
A: Yes, environmental lawyers can assist businesses in adopting sustainable practices, complying with environmental regulations, and implementing renewable energy initiatives to reduce their ecological footprint.
Conclusion: Empowering the Earth Through Environmental Lawyers
In conclusion, environmental lawyers are crucial in preserving our planet and ensuring environmental sustainability. They navigate complex legal landscapes, advocate for environmental protection, and represent clients in pursuing justice. From addressing hazardous waste issues to facilitating renewable energy projects, environmental lawyers are at the forefront of the battle against environmental challenges.
Whether you seek to join the ranks of environmental lawyers, require their services, or want to support the cause of environmental protection, understanding their expertise and dedication is vital. By harnessing the power of the law, environmental lawyers empower us all to create a greener, more sustainable world for future generations.
Empower yourself with knowledge and find top-notch legal assistance. Get started now by requesting free quotes at TheLawyerDirectory, and let us guide you to the right lawyer.