Going through a divorce is undeniably one of the most challenging experiences in life. Emotions run high, and the complexity of the legal process can be overwhelming. During such a difficult time, having the right legal representation is crucial. If you are in Orlando and seeking the best divorce lawyer to guide you through this process, look no further. In this comprehensive guide, we will talk about some of the top divorce lawyers in Orlando, Florida, known for their expertise, dedication, and compassion. Making the right choice in legal counsel is vital to securing a favorable outcome and protecting your rights during this delicate period.
Understanding the Importance of a Good Divorce Lawyer
A divorce lawyer is the most important person to help you protect your interests and rights as you go through the complicated process of getting a divorce. An experienced divorce attorney can offer valuable advice, handle paperwork and negotiations, and represent you effectively in court, if necessary. The right lawyer will strive to achieve a fair resolution regarding asset division, child custody, alimony, and other vital issues, minimizing stress and ensuring a smooth transition.
When going through a divorce, it's easy to let your emotions get the best of you and make rash choices that could have lasting effects. A skilled divorce lawyer will provide objective guidance and act as a buffer between you and your spouse, helping to facilitate productive communication. Additionally, they will ensure that your rights are protected and that the final settlement or court order is in your best interests.
Characteristics of the Best Divorce Lawyers
To find the best divorce lawyer in Orlando, consider the following essential characteristics:
The Law Office of Sarah Johnson
Overview:
The Law Office of Sarah Johnson is a highly reputable family law firm in Orlando, Florida. With over 15 years of experience in divorce and family law, Sarah Johnson and her team are well-equipped to handle even the most complex cases.
Why Choose The Law Office of Sarah Johnson:
Expertise in Divorce Law: Sarah Johnson's specialization in divorce law ensures that you have a knowledgeable attorney focused on your case's unique needs.
Proven Track Record: The firm's history of successful outcomes and satisfied clients is a testament to their dedication and competence.
Client-Centered Approach: The Law Office of Sarah Johnson takes a personalized approach, making you feel heard and valued throughout the process.
Sarah Johnson and her team understand that every divorce case is unique, and they are committed to providing tailored solutions to meet their client's specific needs. They believe in a compassionate yet assertive approach to achieving the best possible outcomes for their clients.
Orlando Family Law Associates
Overview:
Orlando Family Law Associates is a prominent family law firm with offices in Orlando, Florida. Their staff of experienced divorce attorneys is dedicated to meeting all of their clients' needs.
Why Choose Orlando Family Law Associates:
Extensive Experience: With decades of combined experience, their lawyers are well-versed in all divorce and family law aspects.
Compassionate Representation: Orlando Family Law Associates understands the emotional toll of divorce and aims to guide you with empathy and support.
Transparent Communication: They prioritize clear and open communication, informing you about your case's progress.
Orlando Family Law Associates takes a comprehensive approach to divorce cases, considering the legal aspects and the emotional and financial implications. They strive to create a supportive and comfortable environment for their clients, helping them confidently navigate the complexities of the legal process.
Johnson & Smith Law Group
Overview:
Johnson & Smith Law Group is a renowned law firm focusing on family law matters, including divorce. Their team of experienced lawyers is committed to fighting for their client's rights.
Why Choose Johnson & Smith Law Group:
Specialization in Family Law: The firm's primary focus on family law ensures a deep understanding of the complexities involved in divorce cases.
Strategic Approach: Johnson & Smith Law Group devises tailored strategies to suit each client's unique circumstances, aiming for the best possible outcome.
Accessible and Responsive: Their lawyers are readily available to address your concerns and provide timely updates on your case.
Johnson & Smith Law Group takes pride in their commitment to their clients, prioritizing responsiveness and accessibility. They understand the importance of a well-thought-out strategy and work diligently to achieve the best possible results for their clients.
The Importance of Choosing the Right Divorce Lawyer
Finding the appropriate divorce attorney is crucial to getting a good settlement and keeping your rights intact. A skilled and compassionate attorney can guide you through the legal maze, ensuring that your interests are represented and that you have the best chance for a successful resolution.
Here are some compelling reasons why choosing the right divorce lawyer is essential:
Knowledge of Family Law
Divorce cases involve a complex web of legal rules and regulations specific to family law. A competent divorce lawyer will have an in-depth understanding of these laws, ensuring that you receive accurate advice and that your case is handled with expertise.
Objective Guidance
Emotions can cloud judgment during divorce proceedings. An accomplished divorce attorney can lend impartial advice, allowing you to make well-informed choices that serve your long-term interests.
Effective Negotiation Skills
Divorce cases often involve negotiations between the parties involved. A skilled divorce lawyer will be an adept negotiator, advocating for your rights and working toward a fair settlement on your behalf.
Protecting Your Children's Interests
If children are involved in the divorce, their well-being and best interests are paramount. A caring divorce lawyer will prioritize your children's needs, ensuring that their rights and welfare are protected throughout the process.
Handling Complex Financial Matters
Dividing assets and property can be a complicated process. A knowledgeable divorce lawyer will help you navigate the division of marital assets, ensuring that your financial interests are safeguarded.
Reducing Stress and Emotional Burden
Divorce is an emotionally challenging experience. Having a skilled attorney on your side can lighten your load so you can concentrate on getting better and going on with your life.
The Divorce Process in Orlando, Florida
Understanding the divorce process in Orlando, Florida, can help you prepare for what lies ahead. Here is a general rundown of the steps that usually happen in a divorce:
Filing a Petition for Divorce
The first step in getting a divorce is for one partner (the petitioner) to ask the court for one. The letter says why the couple wants to get a divorce and what kind of help they want.
Serving the Divorce Papers
After the petition is filed, the divorce papers must be given to the other partner, who is called the "respondent." A process server or certified mail can be used to get the job done.
Response and Counterpetition
The respondent has a specified period to file a response to the divorce petition. In some cases, the respondent may also file a counterpetition, stating their own grounds for divorce and the relief they seek.
Discovery and Disclosure
The parties must disclose their respective assets, liabilities, income, and expenses. This process, known as discovery, ensures that both sides completely understand the marital finances.
Negotiation and Mediation
Child custody, spousal support, and property distribution are just some of the divorce-related issues that can be settled through discussion and mediation.
Trial
The case may proceed to trial if mediation fails to produce a settlement. Both parties present evidence at trial, and the judge makes decisions on contested issues.
Final Judgment of Divorce
The marriage will be legally dissolved once all issues have been settled, whether by settlement or trial.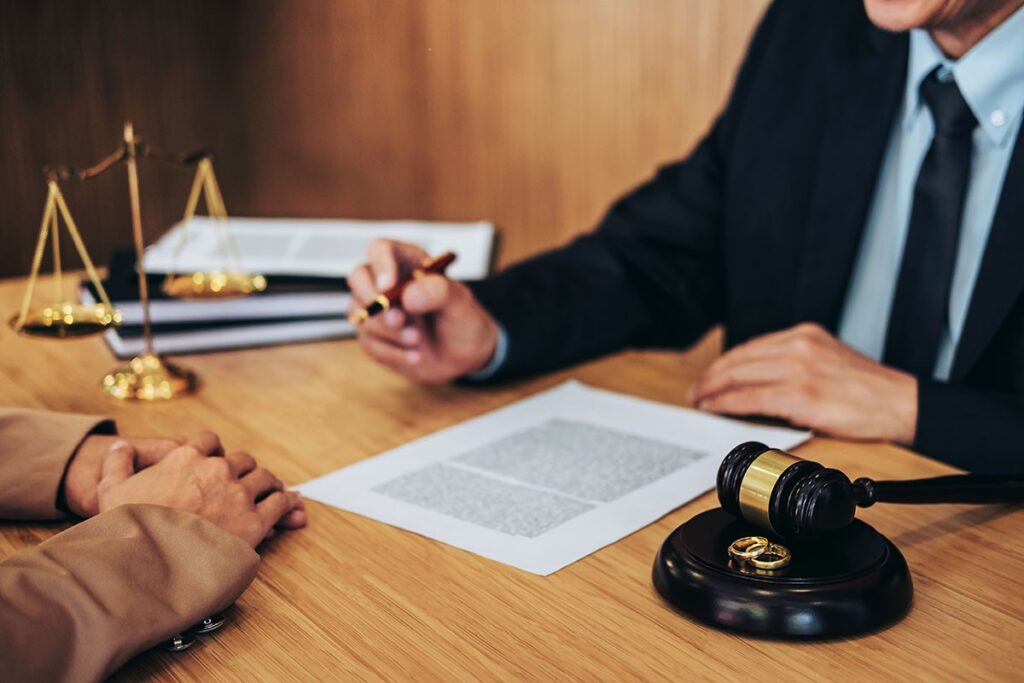 Frequently Asked Questions (FAQs) about Divorce Lawyers in Orlando
Q: What makes a good divorce lawyer in Orlando?
A: A good divorce lawyer in Orlando should have extensive experience and expertise in family law, particularly in handling divorce cases. They should be compassionate, communicative, and client-focused, ensuring personalized attention to each client's unique needs.
Q: How can a divorce lawyer help me during the divorce process?
A: A divorce lawyer can provide invaluable guidance throughout the divorce process. They will offer legal advice, handle paperwork, negotiate on your behalf, and represent you in court if necessary. They aim to protect your rights and achieve a fair resolution in matters such as asset division, child custody, and alimony.
Q: Why is it essential to choose the right divorce lawyer?
A: Choosing the right divorce lawyer is crucial because the outcome of your divorce can have significant long-term consequences on your finances, family dynamics, and emotional well-being. An experienced lawyer can help you get the best possible result in your case while keeping your best interests in mind.
Q: How can I find the best divorce lawyer in Orlando?
A: To find the best divorce lawyer in Orlando, consider factors such as their experience, client reviews and testimonials, communication skills, and specialization in family law. Research reputable law firms and schedule consultations to find the lawyer who best meets your needs.
Q: What are the benefits of hiring a divorce lawyer with mediation skills?
A: Hiring a divorce lawyer with mediation skills can be advantageous as it allows for the potential resolution of disputes outside of court. Mediation can be less adversarial and more cost-effective, helping achieve mutually agreeable solutions on important matters.
Q: What can I expect during the divorce process in Orlando, Florida?
A: The divorce process in Orlando typically involves filing a divorce petition, serving the divorce papers to the other spouse, exchanging financial information through discovery, attempting negotiation and mediation, and, if necessary, proceeding to trial before a judge.
Q: How can a divorce lawyer protect my children's interests during the divorce?
A: A divorce lawyer prioritizes the well-being of children involved in a divorce. They will advocate for the children's best interests, addressing matters of custody, visitation, and support while aiming to minimize the emotional impact of the divorce on the children.
Q: How can I reduce the emotional burden of a divorce?
A: While divorce is emotionally challenging, having a supportive and understanding divorce lawyer can help alleviate some of the burden. You can put your energy into healing and moving on while they deal with legal matters and provide you with compassionate guidance.
Conclusion
Going through a divorce can be emotionally and legally challenging. Having the right divorce lawyer by your side is essential to protect your rights, secure a fair settlement, and navigate the complexities of the legal process. If you are in Orlando, Florida, and need the best divorce lawyer to represent you during this difficult time, consider contacting The Law Offices of Sarah Johnson, Orlando Family Law Associates, or Johnson & Smith Law Group.
Legal challenges? Get a free quote from TheLawyerDirectory and step into a world of solutions!