Accidents can happen unexpectedly in the bustling construction world, leaving workers and bystanders with devastating injuries. When faced with such incidents' physical, emotional, and financial repercussions, it's crucial to seek professional legal assistance to protect your rights and seek rightful compensation. This comprehensive article delves into the realm of construction accident lawyers, highlighting their expertise, the steps they take to secure justice, and their pivotal role in ensuring a safer work environment. Let's explore the world of construction accident lawyers and how they champion the cause of justice.
Construction Accident Lawyers: Who Are They?
Construction accident lawyers are legal professionals in handling construction site accident cases. These dedicated experts possess in-depth knowledge of construction laws, workplace safety regulations, and personal injury litigation. Their primary objective is to represent individuals who have suffered injuries due to construction accidents, whether they are construction workers, passersby, or visitors.
The Significance of Construction Accident Lawyers
Construction accidents account for a significant proportion of occupational injuries and fatalities in the United States. Victims might find it challenging to navigate the complex legal system and secure fair compensation without the representation of construction accident lawyers. These lawyers serve as a beacon of hope for those affected by construction accidents, advocating for their rights and ensuring they receive adequate financial support for medical expenses, lost wages, and pain and suffering.
Understanding the Role of Construction Accident Lawyers
Construction accident lawyers undertake a series of critical responsibilities to ensure their clients' interests are protected. Let's explore their essential roles:
Case Evaluation and Investigation
Construction accident lawyers begin by thoroughly evaluating the circumstances surrounding the accident. They investigate the site, gather evidence, review medical reports, and interview witnesses to build a strong case foundation.
Identifying Liability
One of the significant challenges in construction accident cases is determining liability. Construction accident lawyers work tirelessly to identify all parties responsible for the accident, including contractors, sub-contractors, equipment manufacturers, or property owners.
Pursuing Compensation
Once liability is established, construction accident lawyers fight tenaciously to pursue rightful compensation for their clients. They assess the full extent of damages, including medical expenses, rehabilitation costs, lost wages, and emotional distress.
Negotiation and Settlement
Skilled negotiators and construction accident lawyers engage in settlement discussions with the liable parties and their insurance representatives. Their goal is to reach a fair settlement that adequately compensates the victim without the need for protracted litigation.
Trial Representation
In cases where a fair settlement cannot be reached, construction accident lawyers are fully prepared to take the matter to court. They provide expert trial representation, presenting compelling evidence and arguments to secure a favorable verdict.
The Benefits of Hiring Construction Accident Lawyers
Hiring a competent construction accident lawyer can be immensely advantageous if you or your loved one has suffered injuries in a construction accident. Here are the benefits of seeking their legal expertise:
Expert Legal Knowledge
Construction accident lawyers possess specialized knowledge of construction laws, safety regulations, and personal injury statutes. Their expertise ensures that your case is handled with the utmost competence and professionalism.
Proper Documentation and Filing
When dealing with injuries, navigating the legal system can be especially difficult. Construction accident lawyers take charge of all necessary documentation, paperwork, and filing requirements, leaving you to focus on your recovery.
Skilled Negotiation
Insurance companies often attempt to settle for the lowest possible amount. With construction accident lawyers by your side, you gain skilled negotiators who can advocate for your best interests and secure a fair settlement.
Peace of Mind
Dealing with a construction accident is undoubtedly stressful. Engaging a construction accident lawyer provides peace of mind, knowing that you have a legal expert fighting for your rights while concentrating on healing.
Access to Resources
Experienced construction accident lawyers have access to an extensive network of professionals, including accident reconstruction experts and medical specialists. This network strengthens your case and supports your claim for fair compensation.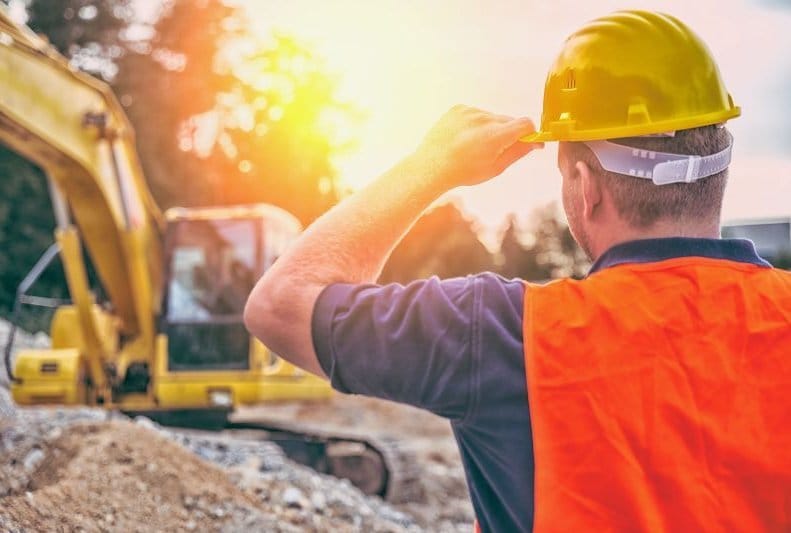 Common Types of Construction Accidents
Construction sites are rife with potential hazards, leading to various types of accidents. Here are some of the most common construction accidents:
– Slip and Fall Accidents
Injuries from slip and fall incidents are common on construction sites due to the hazardous conditions present there.
– Scaffolding Accidents
Working at heights on scaffolding involves inherent risks, and when safety measures are overlooked, it can lead to falls and serious injuries.
– Crane Accidents
Malfunctioning or mishandled cranes can result in catastrophic accidents, impacting workers and nearby pedestrians.
– Electrocutions
Exposed electrical wires and faulty equipment can lead to electrocutions, causing severe burns and potentially fatal injuries.
– Caught-in or Caught-between Accidents
Workers can get caught between heavy machinery or construction materials, leading to crushing injuries and amputations.
Frequently Asked Questions (FAQs)
Q: How soon should I contact a construction accident lawyer after an accident?
It is crucial to contact a construction accident lawyer as soon as possible after the accident. There are time limits (statutes of limitations) for filing a personal injury claim, and delaying may jeopardize your chances of receiving compensation.
Q: What if I am a construction worker injured on the job?
If a building worker gets hurt on the job, they may be able to get benefits from workers' compensation. Additionally, you may have grounds for a third-party liability claim if someone other than your employer caused the accident.
Q: Can I still pursue compensation if the accident was partly my fault?
Yes, you may still be eligible for compensation even if you were partially at fault for the accident. Damage awards under comparative negligence statutes vary from state to state and are based on the degree of blame each party bears.
Q: Will my case go to trial?
Many construction accident cases are settled before reaching trial. A construction accident attorney will negotiate on your behalf to try and secure a fair settlement but will be ready to go to court if necessary.
Q: What if the construction company denies liability for the accident?
If the construction company denies liability, your lawyer will gather evidence to establish their responsibility. This may include safety violations, lack of training, or equipment failures contributing to the accident.
Q: Can I afford to hire a construction accident lawyer?
Most legal representation for workplace accidents is provided on a contingency fee basis. This means they only receive payment if they secure compensation for you. As a result, you can seek legal representation without upfront costs.
Conclusion
Construction accident lawyers are pivotal in seeking justice for construction site accident victims. Their expertise, dedication, and determination empower victims to navigate the complexities of the legal system and secure rightful compensation. If you find yourself or a loved one grappling with the aftermath of a construction accident, don't hesitate to seek professional legal assistance. Remember that legal counsel is available to help you pursue justice after a construction accident.
Ready to face your legal challenges head-on? Don't miss out on our free quotes service at TheLawyerDirectory – your key to finding the right attorney.