Construction accidents can be devastating, resulting in serious injuries, financial losses, and emotional trauma. If you or someone you know has been involved in a construction accident in New York, it's crucial to understand your rights and seek legal help to protect your interests. This article will provide a comprehensive guide to New York construction accident lawyers, the importance of construction accident lawyers, safety measures in the construction industry, and steps to take if you find yourself injured in a construction site accident.
Construction Accident in New York: An Overview
The construction industry is essential to New York's bustling infrastructure development. However, the nature of construction work exposes workers and bystanders to various hazards. Construction accidents can occur due to factors such as negligence, faulty equipment, inadequate safety protocols, and human error.
The Role of Construction Accident Lawyers
If you've experienced a construction accident, seeking legal representation from experienced New York construction accident lawyers is crucial. These attorneys specialize in handling construction accident cases and understand the intricacies of personal injury laws in the state.
Lawyers in New York City or elsewhere in the state specializing in construction accidents will fight for your rights and make sure you get fair pay for your injuries and losses. They will look into the accident, gather proof, talk to the insurance company, and, if necessary, go to court to ensure you get the money you deserve.
The Construction Industry's Commitment to Safety
Safety is a top priority in the construction industry. Construction companies and contractors must adhere to strict safety regulations to protect their workers and the public. Some safety measures commonly implemented on construction sites include:
Regular Safety Training: Workers undergo extensive safety training to identify potential hazards and use equipment safely.
Personal Protective Equipment (PPE): All workers must wear appropriate PPE, such as hard hats, safety goggles, and reflective vests, to reduce the risk of injuries.
Site Inspections: Regular inspections ensure compliance with safety standards and identify potential risks.
Fall Protection: Guardrails, safety nets, and harnesses are used to protect workers from falls, which are a common cause of construction accidents.
Equipment Maintenance: Regular maintenance and inspections of machinery and equipment are performed to ensure their safe operation.
Emergency Response Plans: Construction sites have well-defined emergency response plans to promptly address accidents and injuries.
Injured in a Construction Site Accident: What to Do
If you find yourself injured in a construction site accident in New York, it's essential to take the following steps:
Get Medical Help: You Should Put Your Health And Safety First. You should visit a doctor immediately if you've been hurt, even if you think it's nothing.
Report the Accident: Inform your supervisor or employer about the accident and ensure that an official report is filed.
Gather Information: Collect information about the accident, such as names and contact details of witnesses, photographs of the accident site, and any other evidence that may support your case.
Get in Touch with an Experienced New York Construction Accident Lawyer Right Away: To preserve your rights and start the legal procedure, you should get in touch with an experienced New York construction accident lawyer as quickly as possible.
Avoid Making Statements: Refrain from giving any statements or signing any documents without consulting your lawyer first.
Preserve Evidence: You should keep any accident-related paperwork, including medical bills and receipts.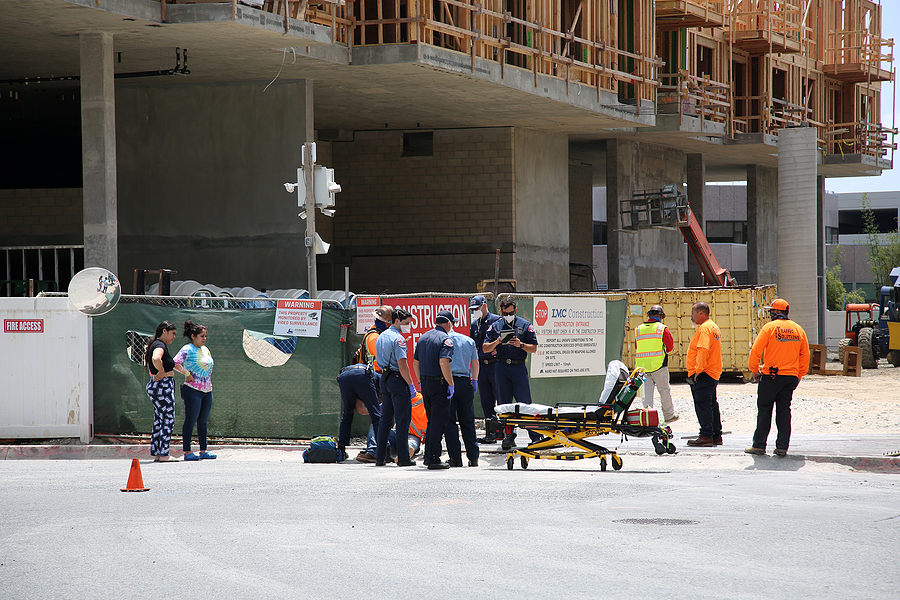 Frequently Asked Questions (FAQs)
Q: How can a construction accident lawyer help me?
A: An attorney experienced in construction accident law can advise you on your legal options, investigate the incident, compile evidence, communicate with insurance companies, and represent you in court if necessary. Also, they will spare no effort in seeking the financial recompense you need to recover from your misfortunes.
Q: What types of compensation can I receive for a construction accident?
A: Compensation for medical bills, lost earnings, suffering and pain, and other damages caused by the accident may be available to you, depending on the specifics of your case.
Q: Is there a time limit for filing a construction accident claim in New York?
A: There is a statute of limitations for filing a construction accident claim in New York. It's essential to consult a construction accident lawyer as soon as possible to ensure you don't miss the deadline.
Q: Can I make a claim that I was partly to blame for the accident on the job site?
A: New York has a rule called "comparative negligence," which says that even if you were partly to blame, still, you can file a claim. But the amount of money you get may be lessened if you were partly to blame.
Q: Can I sue my boss if I get hurt on the job?
A: In most cases, you cannot sue your employer directly for a construction accident due to workers' compensation laws. However, you may have a separate claim against third parties, such as contractors or equipment manufacturers.
Q: How much does it cost to hire a construction accident lawyer?
A: Lawyers specializing in construction site accidents usually take cases on a contingency fee basis. It's best to discuss fees and payment arrangements during your initial consultation.
Conclusion
Construction accidents in New York can have severe consequences, but with the right legal help and safety measures, you can protect your rights and seek compensation for your injuries and losses. If you've been involved in a construction site accident in New York, don't hesitate to seek guidance from experienced construction accident lawyers. Remember to prioritize safety on construction sites and be aware of your rights as a worker or a bystander in these high-risk environments.
Experience hassle-free lawyer hunting with TheLawyerDirectory's free quotes – paving the way for a seamless legal journey.